Rosette Ranges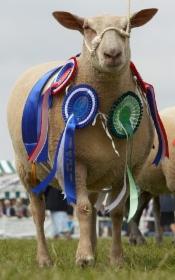 There are eight main ranges of rosettes all made from high quality, embossed edge single sided satin ribbon produced to the highest standard both in terms of quality and finish.
Included in the Price
All rosette centres are 5cm round, printed with your club/event name, with either a standard motif or placing in the centre, blocked in either gold or silver foil (other colours available upon request). Some rosette ranges include larger centres as standard.
All rosettes are available in any colour or combination of colours from our comprehensive range with matching coloured centres.
A choice of Bridle Clip, Tapes, Pin, Carcase Pin or Sticky Pad fastenings.
Optional Extras
Larger centre sizes are available on the majority of the rosette ranges for a small additional charge.
Personalised Printing Blocks - We can print specific logos and emblems if required. One off fee applies.
Printed Tails - We can print onto the rosette tails for an extra 16p per printed tail.
Additional Tail Lengths & Widths - Extra long or wide tails can also be added to your rosette.
Stars & Loops - We can add in stars and loops around the centre, within tiers or around the outer edge.
Diamante's can be added to centres of pom poms for a touch of extra bling.

Specialised Ribbon - We have a range of different ribbon which we can use - Gold Edged Ribbon - Tartan Ribbons - Striped Ribbon - Metallic Gold, Silver or Bronze Ribbons - Gold Spotted Ribbon - Silver printed Horseshoes on white ribbon - Various Christmas themed ribbons.
We can also print in different coloured foils - please see below.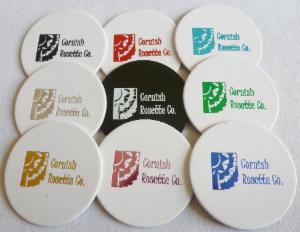 From left to right: Black / Red / Aqua / Silver / White / Green / Gold / Pink / Blue